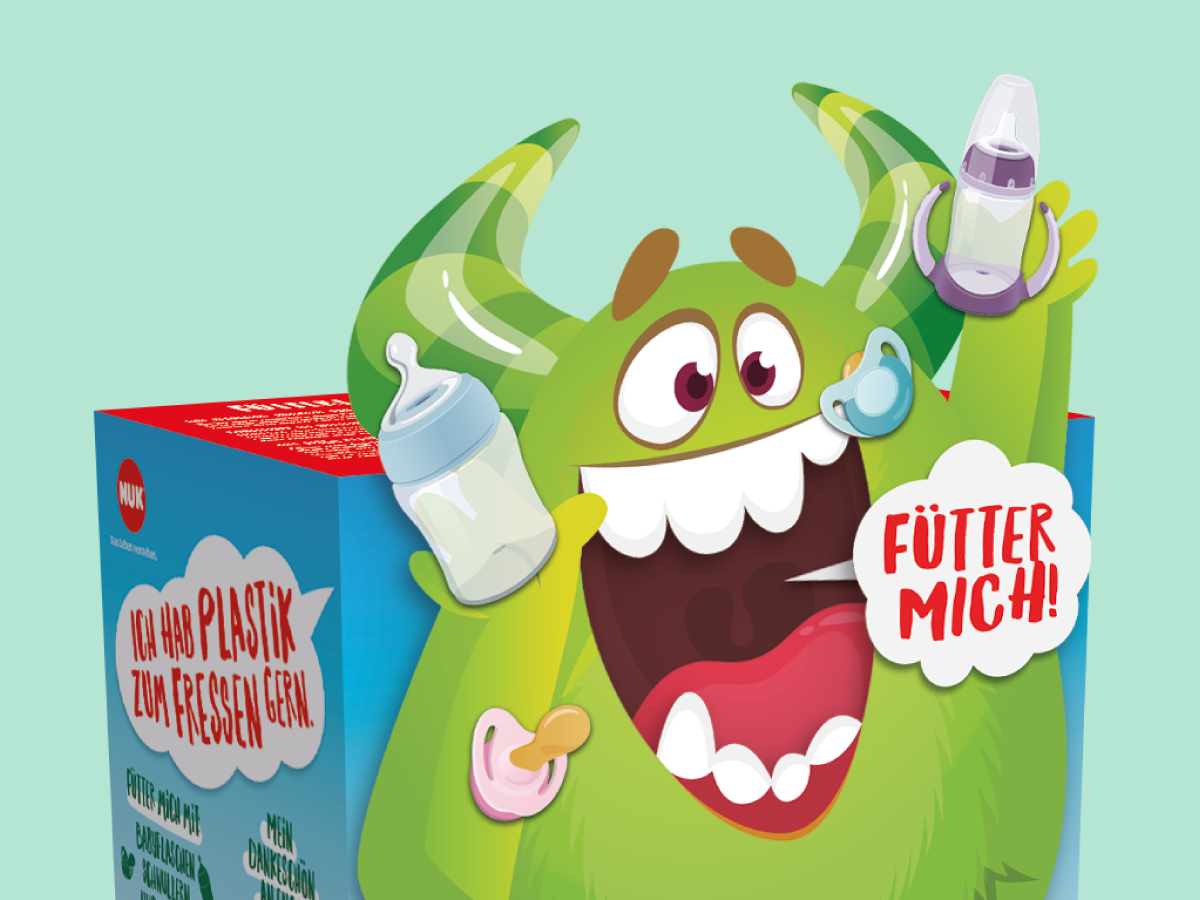 Cat
Please Do Feed the Monster
press release from 26.10.2022
Major recycling initiative by NUK - discarded pacifiers, bottles and co. get a new life as sand toys
The pacifier monster is hungry
The baby products manufacturer NUK has launched a large-scale recycling initiative. Since June, plastic pacifiers, baby bottles and cups have been taken back free of charge throughout Germany and recycled in a way that is compatible with the cycle. It collects the so-called "NUK Pacifier Monster", because it "loves plastic" and thus saves the discarded baby products from incineration. In a special recycling process, sand molds are then created that consist of 100% of the recycled pacifiers, bottles and cups and are raffled off to the participants. Collection points are currently located at over 550 daycare centers and more than 100 retailers across the country. In addition, private individuals can participate from home and create a free parcel label at nuk.de/recycling to send in old products themselves.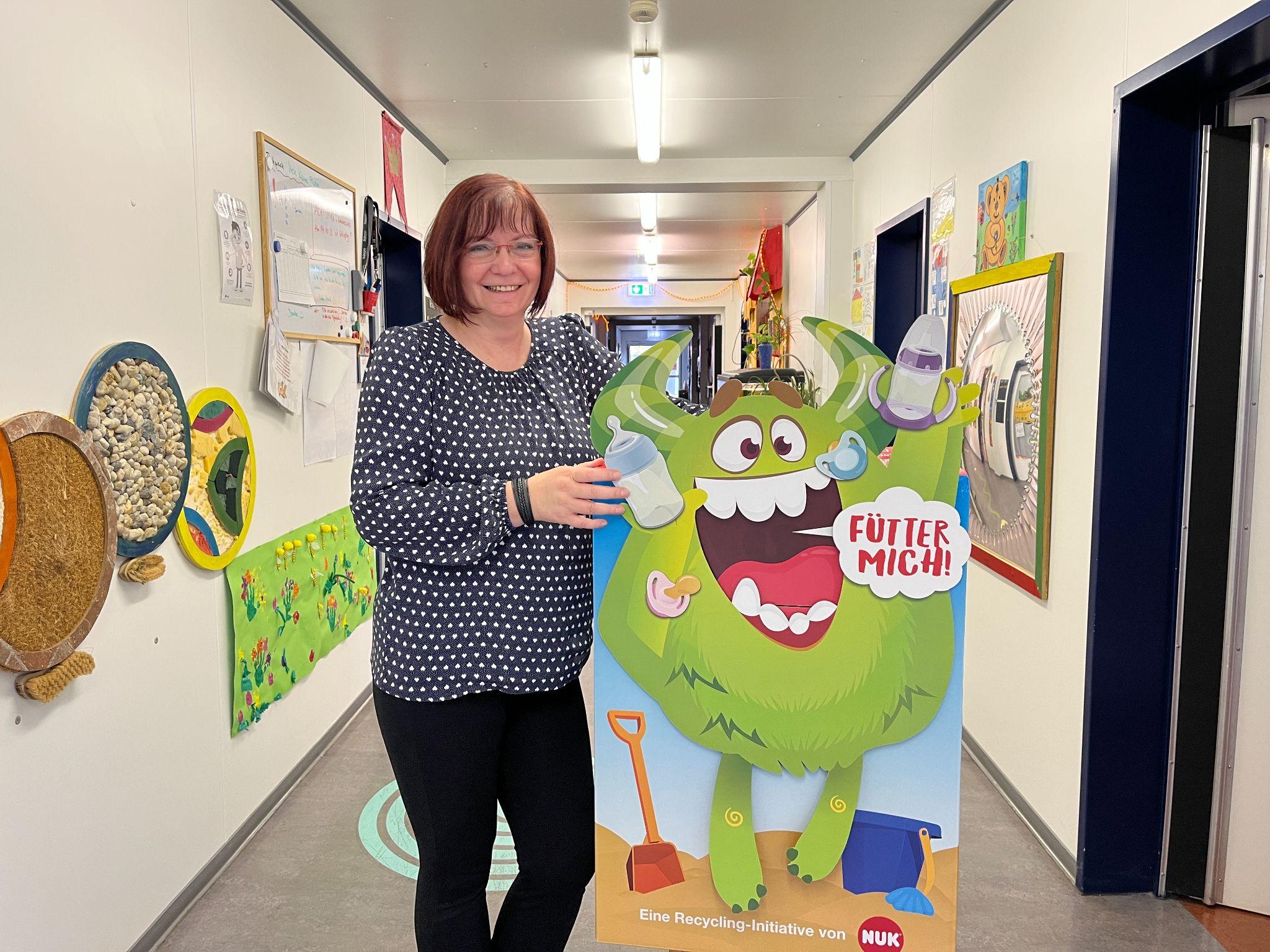 "The children immediately took the monster to heart. Every day they ask if the pacifier monster has had enough and check how full the collection box is," says Cornelia Hänig, director of Kinderhaus Tausendfuß in Dresden. "With the pacifier monster, sustainability becomes tangible for the little ones, because the plastic they collect together comes back later as colorful sand molds."
Broad partnership from industry and trade enables the new cycle
The program is being implemented together with various partner companies: The startup HolyPoly from Dresden developed the recycling process and is coordinating the campaign together with NUK. Interzero's "Sammeldrache" provides its Germany-wide network to kindergartens that are already committed to environmental protection and education. BabyOne and the Zweimalschön charity stores of the German Clothing Foundation as well as two shopping centers in Leipzig and Bremen have set up pacifier monster collection boxes in their stores. Toy manufacturer Gowi produces the recycled sand molds. The entire process takes place in Germany.
Take Back: Sustainable business transformation through take-back systems
HolyPoly assists in building recycling programs and developing circular business models.
Valuable plastics are saved from incineration
As soon as the pacifiers, baby bottles and cups arrive at the NUK recycling center, they are unpacked, sorted by color and type of plastic and shredded. The plastic is then washed, processed and tested in the laboratory for quality control. This ensures that the resulting sand molds have a long shelf life and are, in turn, recyclable at the end of life.
"Normally, pacifiers and co. currently unfortunately end up in residual waste and thus in the incinerator. The valuable material is irretrievably lost and the climate is polluted" explains Fridolin Pflüger, project manager at HolyPoly. "Here, for the first time in the world, NUK is creating a high-quality cycle from toddler products back to toddler products. We expect to collect significantly more material than is needed for the production of the sand toys and will also use this in other high-quality products."
Recycling pays off for all who participate
In addition to the increasingly important conservation of resources and waste avoidance, the collection campaign aims to give something back to environmentally conscious children and parents: In addition to the sand molds, each participating daycare center receives points that can be exchanged for useful premiums such as toys, books or learning or craft materials in the collection dragon store. In addition, there is a chance to win a recycling workshop for the whole facility, where the children can experience for themselves how it works to recycle plastic and make new useful items from it. The bigger the parcels sent in, the better for the climate: private individuals can therefore win a year's subscription to Etepetete's fruit and vegetable Mix Box Family for particularly full shipments, in addition to the sand molds.
Join now for less plastic waste and more recycling
Until the end of November this year, daycare centers can apply to participate free of charge on the program website and order a pacifier monster collection box. Private households can participate from home at any time and send in packages free of charge via DHL.
A list of public collection points and participating facilities, as well as further information on the take-back system, is available on the NUK Recycling Initiative website: nuk.de/recycling