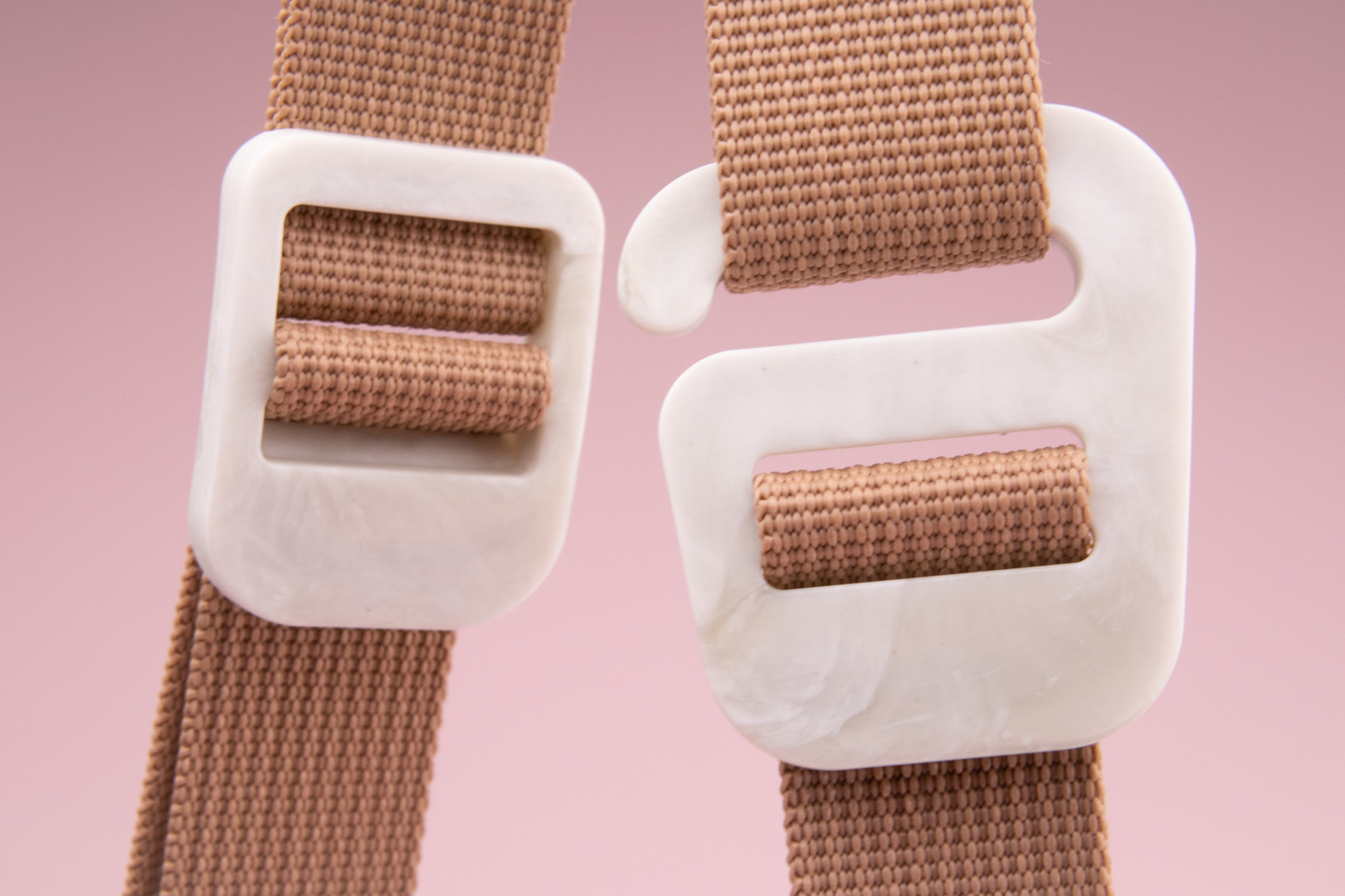 Buckles made of Ocean Impact Plastic for the first time
Recycled Marble Trims for the GOT BAG ROLLTOP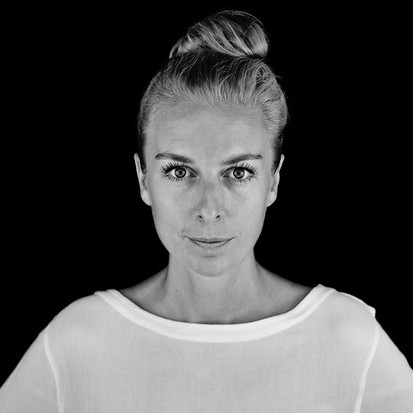 "Thanks to HolyPoly, we were also able to achieve an evolutionary milestone for the buckles of our iconic backpacks: For the first time, we now make them from around 50% recycled Ocean Impact Plastic. Before, everyone had always said: you can't do that.... You show: It can!"
Kathrin Melchior,
Lead of Product GOT BAG
The pioneer for lifestyle products made of Ocean Impact Plastic GOT BAG was looking for a long time for buckles made of 100% recycled plastic. With a design that follows the material and makes recycling visible, we were able to realize what the market had not given before. Thus, each ROLLTOP became a unique piece that you can see the cycle.
Pioneer in lifestyle products made from Ocean Impact Plastic
in 2016, Benjamin Mandos developed the world's first backpack made of marine plastic and founded GOT BAG. The company actively combats the increasing plastic pollution of the oceans and wants to encourage a more conscious use of natural resources with its products. The mission is clear: Create an Impact!
For its bags and backpacks, GOT BAG therefore uses so-called 'Ocean Impact Plastic'. The company uses this term to describe collected plastic waste from two different sources: On the one hand, plastic that Indonesian fishermen collect as bycatch from their nets directly from the sea - in this case, it is referred to as 'ocean plastic'. On the other hand, plastic that is collected within a radius of 50 km off the coast. Otherwise, this plastic would most likely end up in the sea due to a lack of disposal systems - this is why this is referred to as 'ocean-bound plastic'. Only from these two sources GOT BAG uses plastic to produce the fabric of the backpacks and bags.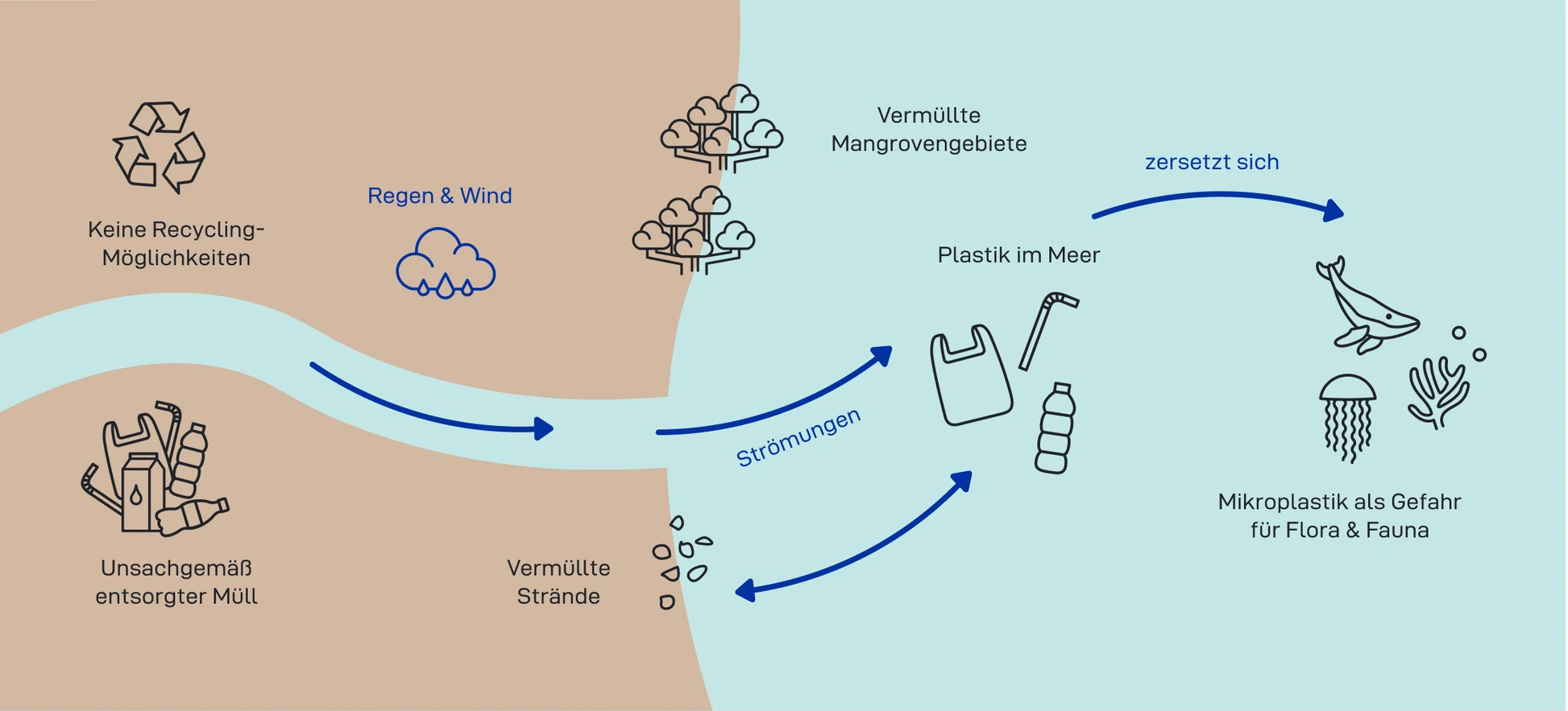 Tendentially, regardless of location, slightly less than half of improperly disposed trash eventually ends up in the ocean. According to Jenna Jambeck, professor of environmental engineering at the University of Georgia, especially the trash generated by the population within 50 km of the coast and not disposed of properly. Graphic from GOT BAG.
"Our products show that plastic from the environment can be used to make something new. It is particularly important for us to constantly develop the products further and produce more and more components from waste that would otherwise threaten the sea: 'Design from Recycling' is the guiding principle. That means we also want to find solutions where the possibilities don't exist today."
Kathrin Melchior,
Lead of Product GOT BAG
Recycled buckles that the market does not offer
The fabric of GOT BAG products is made of Ocean Impact Plastic. But backpacks and bags consist of other components, such as zippers and buckles. Like all other textile companies, GOT BAG faces the major problem that the market for recycled trims and buckles is virtually non-existent. There are very few suppliers, and their products usually do not meet the aesthetic and quality requirements of a lifestyle brand.
"We have not yet reached the stage where we can develop all the equipment elements for our products ourselves. We have to rely on external partners who are just as progressive in their thinking as we are
GOT BAG did not want to resign itself to this situation and set out to find partnerships that would help gradually replace the remaining proportion of non-recycled plastic parts. Together with HolyPoly, the decision has therefore been made to start with hard plastic buckles for the iconic GOT BAG ROLLTOP model.
That's where HolyPoly comes in
Following the guiding principle, 'Design from Recycling', HolyPoly has developed buckles made from 100% recycled plastic - with the aim of using as much Ocean Impact Plastic as possible. The engineering plastics traditionally used for buckles, such as polyamide (PA), are hard to find on beaches. Commodity plastics such as polypropylene (PP), one of the world's most widely used plastics, however, are. However, PP is softer and more flexible than PA or POM, making it less suitable for the buckle design previously used by GOT BAG. HolyPoly has developed an alternative closure based on the nature of Ocean-Bound recycled plastic that performs the same function and securely closes backpacks despite the material's vastly different properties.
Same function with a new mode of operation: The so-called "G-Hook" is simply hooked into the belt loop: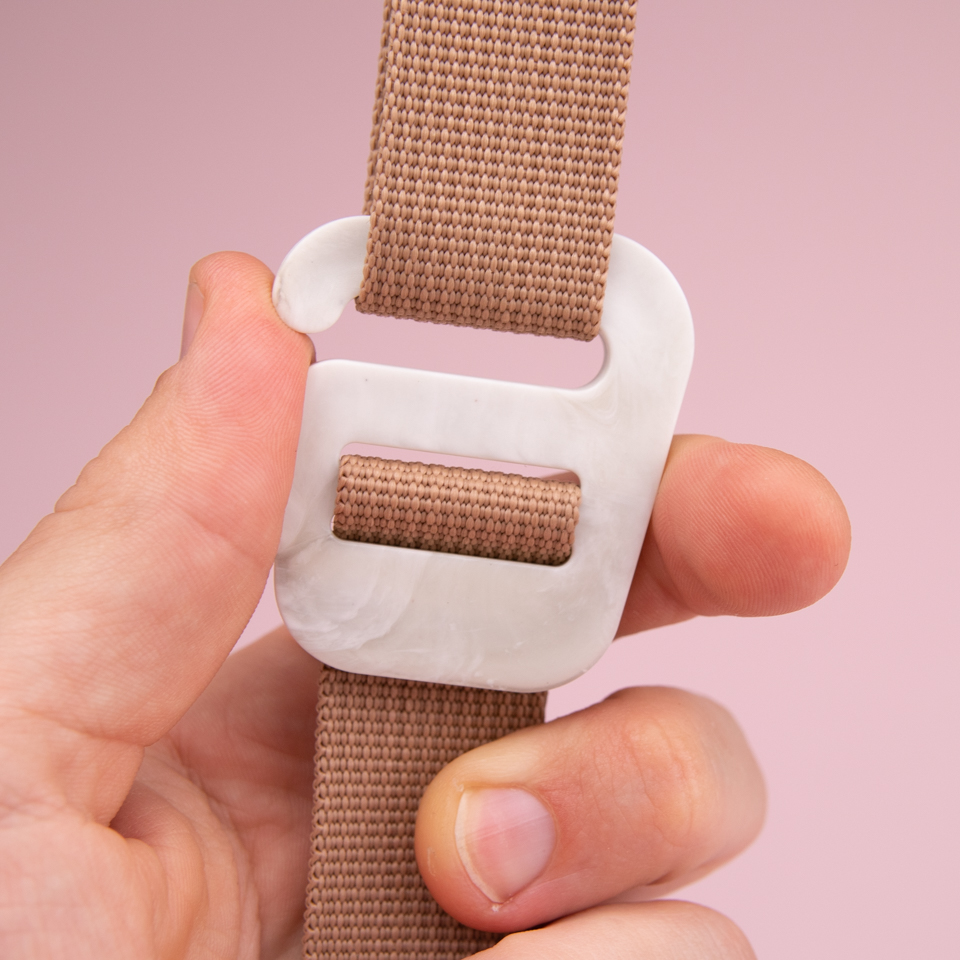 "The cooperation was super fast and uncomplicated. You guys have clarified exactly what our goal is and developed a solution according to our needs. The handling was also simply mega: reliable, smooth and on point."
Kathrin Melchior,
Lead of Product GOT BAG
The design follows the material, not vice versa
GOT BAG is a lifestyle brand and has a clear vision of how they want their products to look. To this look and feel HolyPoly has developed and delivered a production ready product in Marble look.
The choice fell on two Marble variants in black-white-beige and beige-white: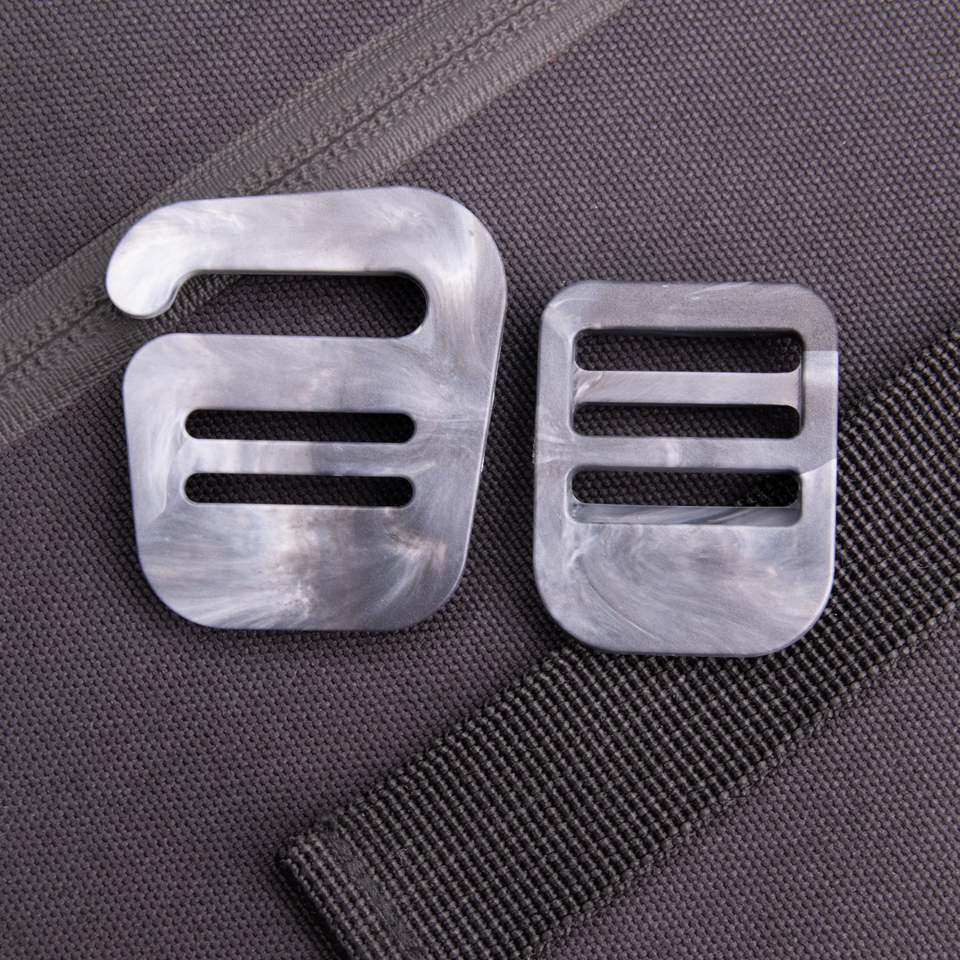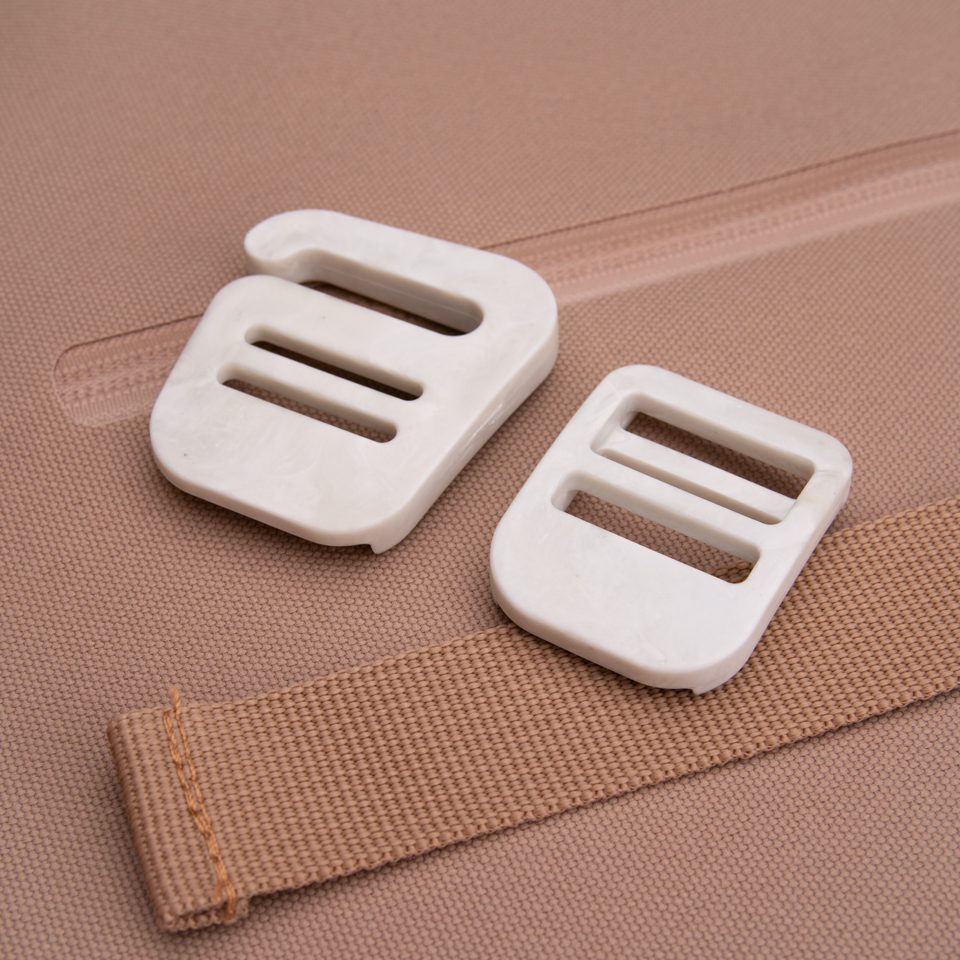 In addition to developing the buckles, HolyPoly also set up the complete supply chain for series production: The PP mixture is composed of former packaging from the yellow bag (post-consumer recyclate), industrial waste (post-industrial recyclate) and ocean-bound plastic. The series tool was designed for the special Marble production and the buckles were produced entirely in Germany.
Various shapes of the buckle were first tested for their load-bearing capacity on the computer using simulations. Then a selection of the design variants were manufactured as prototypes, mechanically tested and optimized until they were ready for series production:
Development circular series
Component selection
Design and visualization
Prototyping 3D printing, injection molding 3D printing tooling, injection molding aluminum tooling
Material sourcing and qualification
Simulation, design and component testing
Design for production
Manufacturing circular series
Steel tool design and construction
Effect injection molding technology and dosing
Sampling
Mass production and quality management
International shipping
"The buckles we developed together are an ideal match for the clean design of GOT BAG. We are aware that developing technical components from 100% recycled material is a big challenge. That's precisely why we were really thrilled with the quality in the end!"
Kathrin Melchior,
Lead of Product GOT BAG
Each ROLLTOP GOT BAG × HolyPoly is unique, which you can see the cycle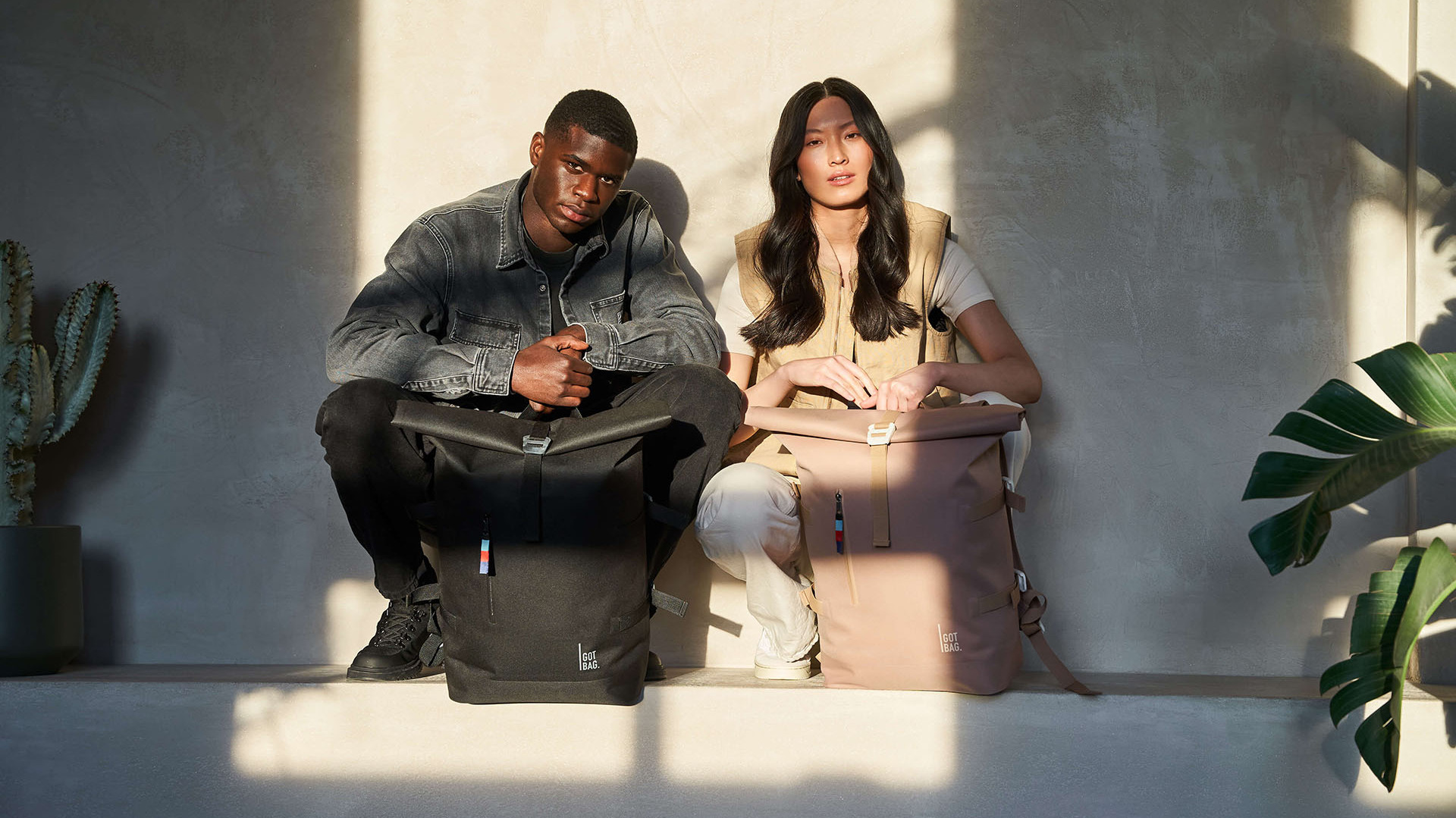 Photo from GOT BAG
After a strictly limited test drop, the ROLLTOP GOT BAG x HolyPoly is sold since May 2022 in the online store and to selected Händler:innen: GOT BAG's first backpacks with buckles made from 100% recycled plastic. The dark ones contain 30% and the light ones almost 80% Ocean Impact Plastic, collected in the Philippines.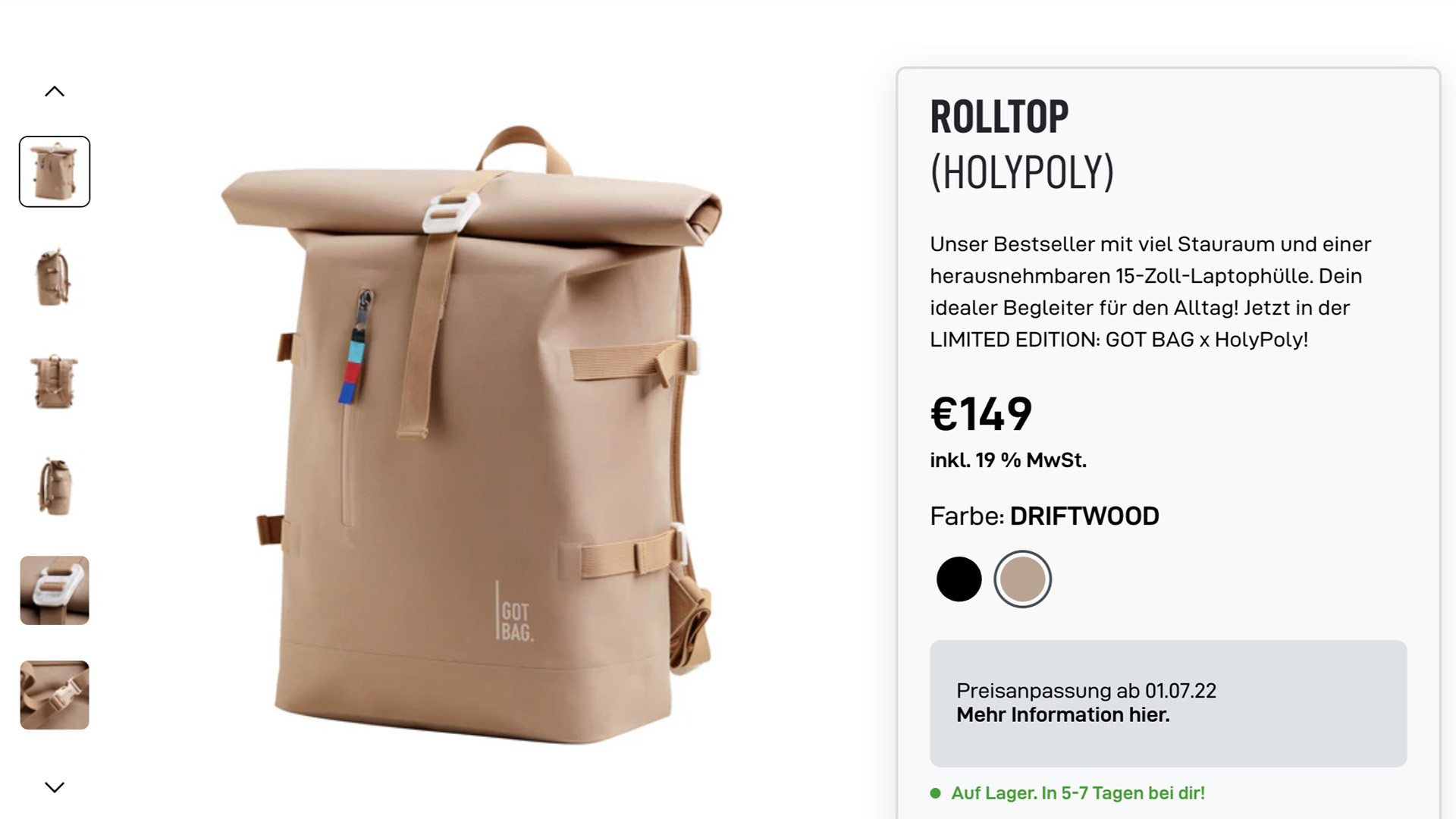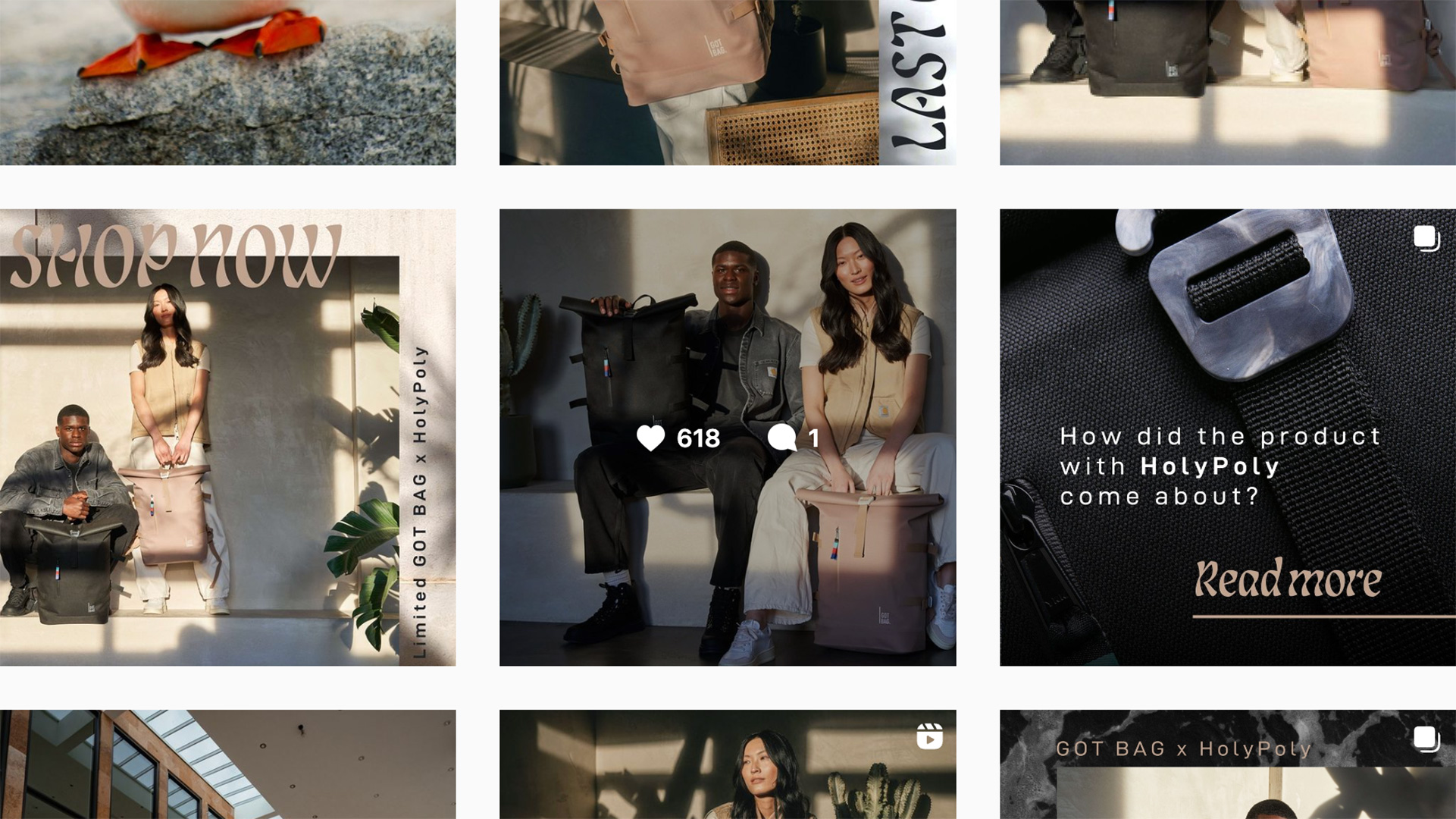 The 7 buckles, which are installed on each backpack, make +3% recycled content per ROLLTOP (on average +1.5% Ocean Impact Plastic). For this, there were more than 13K likes within a week from the community.
G-Hooks are like BIC Cristal Kulis
Back to the basics - less is more. Fewer parts, fewer bells and whistles, less effort in manufacturing. The recycled G-Hook is not only a fine thing for sustainability reasons, but also in design simply the contemporary choice over a buckle. And he will never press you in your back when you times with open Rucki through the streets düst.
3D Marble through translucent material
A translucent component in the marble mixture increases the depth of the effect. This makes the product look even more valuable. In the buckles, the slightly milky components come from the Ocean Bound plastic.
Gen Y no longer goes along with everything
Although the backpack and its buckles are designed for a load of 40 kg, hardly any Millennial would voluntarily carry more than a quarter of this weight on his hump through his urban habitat. On the other hand, the challenges of the future weigh heavier than ever before - so it's important to take it easy... #selfcare
Cooperation with HolyPoly
Circularity Level
Seasoned Radical - GOT BAG is founded on the idea of curbing plastic pollution in the ocean with high-end lifestyle products, revolutionizing the perception of waste.
contact project management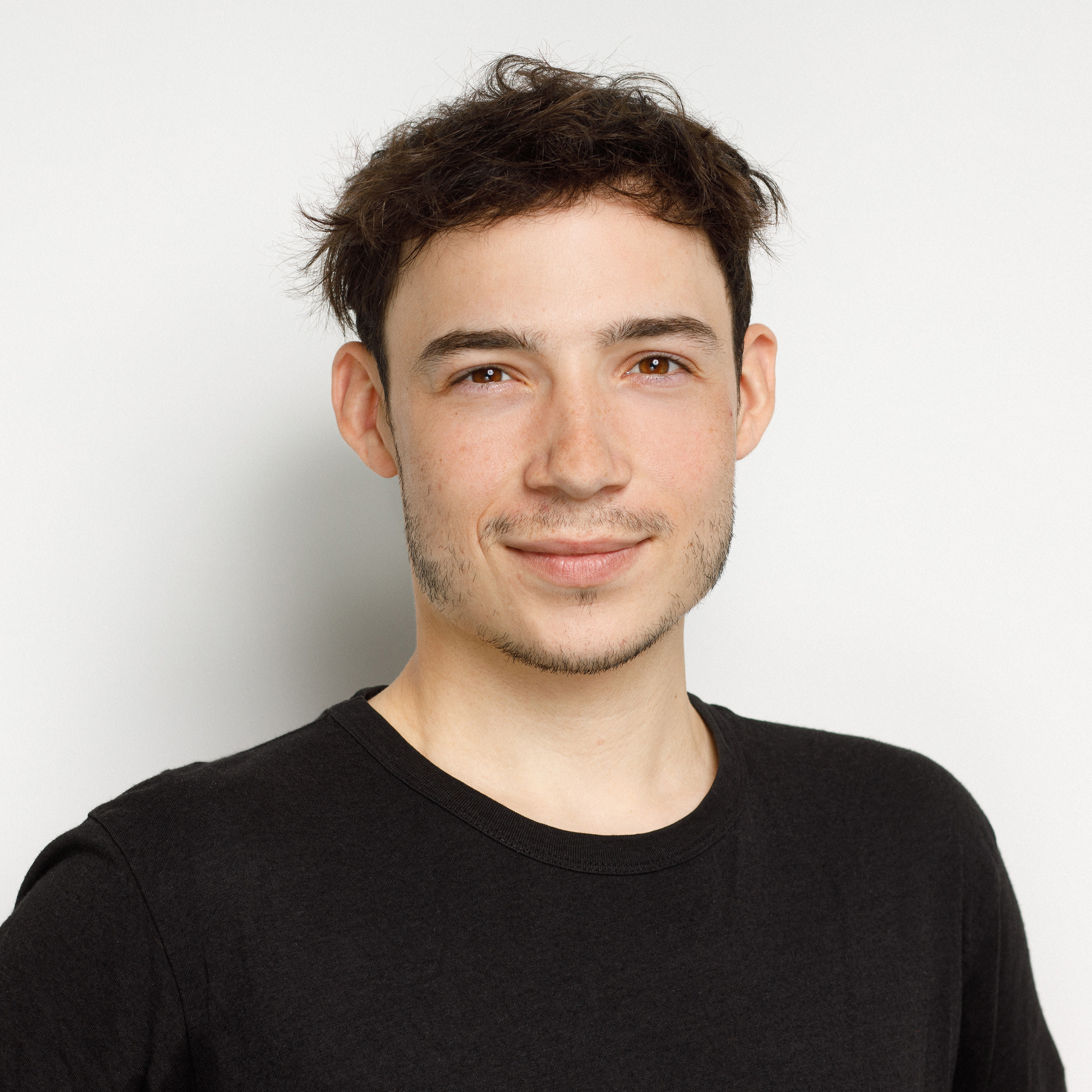 Your contact
Pascal Haaf
is Project Owner GOT BAG #Kapsel and is happy to answer all questions about the project